October is a time of reflection at Chroma Studio as we set into motion our second year of programming. Our grounding, as individuals and a collective, depends on our ability to motivate and sustain the creation of works of art by our community. So we begin with just that, a genuine commitment to us rather than a promise of a personal orbit. We hope our space facilitates a sense of belonging amidst the chaos of our current political, social and global climate. Our commitment is to womxn of color and to the emergence of wonder that accompanies our community. That being said, this month we feel driven by the wisdom of Octavia Butler who notably states in her novel, Parable of the Sower:

"None of us knows very much. But we can all learn more. Then we can teach one another. We can stop denying reality or hoping it will go away by magic,"

As many of us faithfully return to Butler for thoughts on self, Chroma's October theme of "grounding" is inspired by Butler's handwritten note-to-self.
October Events:
"So be it! See to it!" - Octavia Butler

In the Absence of Time: BioPharmacoMythology (A Dancer's Reward)


Saturday, October 6 - 7PM to 9PM

A closing event to Housing NY's summer programming, Sofia Moreno performed her latest piece BioPharmacoMythology (A Dancer's Reward) at Chroma Studio curated by KJ Freeman.

"ALL BORROWED TIME" is an anthology of durational performances and sculptural collaboration with the general public. These performances juts into sexual histories/herstories, myth, love, public intimacy, pain, religious colonialism, and ultimately, human existence. Laid bare on a dying landscape, the artist become an anthropologist excavating personal and imagined pasts (and futures) through on site object-making and buried relics. The public is asked to bring clothes or textiles to contribute to the installation. Each garment represents a story, and, when assembled, our collective human existence."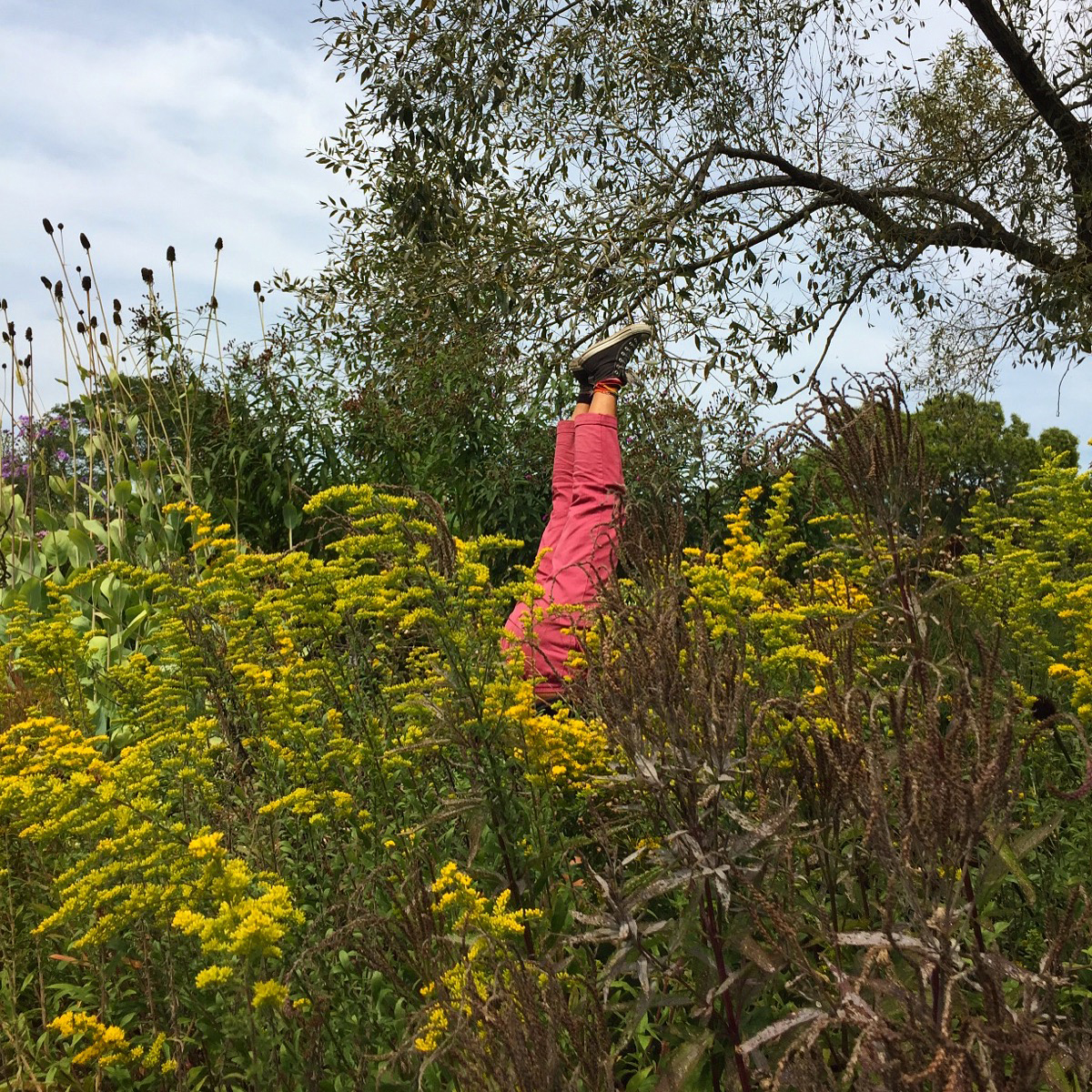 In the Absence of Roots: Primal Base Chakra Yoga

Tuesdays, October 9, 16, 23, 30 - 7:30PM to 8:30PM

Kia Islam will offer a yoga class in which all bodies and all levels are welcome. The combination of movement and breath techniques work together to create a state of arrival into the body and out of the mind. The practice works to cultivate an inner stillness which allows the observation and loving acceptance of the body in its current state; which is the first step to making space for both physical and energetic shifts. Prepare to leave in a reflective and aligned state. Come hydrated, with a mat, and wearing something comfortable to move in.


Instructor:
Growing up between the East Coast and the Middle East, Kia has been exposed to a variety of devotional and cultural practices from a young age. Upon moving to New York city to study art and culture, she was introduced to Hatha yoga under the teachings of Dharma Mittra. Asana practice totally transformed her understanding of the mind body soul connection; truly igniting a deep sense of wonder of the varieties of experiences of healing that the physical body can journey through. Her connection to the philosophy and the inspiring practice of Bhakti yoga works to deepen her connection to her own roots and encourages her love to serve others. After completing her 200 hr RYT through the Bhakti Center in 2016, Kia has been making art, working with children and diving deeper into the healing arts. Kia's classes are focused on awareness of the breath while making shapes, using intuitive movement and music to touch the soul and explore the space of light within.

RSVP required: contact@chr0ma.zone
$10 per class, doors open at 7PM

In the Absence of Presence: A Portal Into the Self

Thursday, October 25th - 7:30PM to 9PM

In conversation with Cynthia Cervantes Gumbs & Travis Gumbs of Maroon World, we consider how the self may be understood through a practice of presence. In collaboration with Maroon World, Chroma will curate an intimate viewing of SOCORRO, their short film for Dis with director Sonia Malfa alongside a guided meditation and a sound bath with Christine Alfred, a Reiki Master of traditional Usui Reiki and a therapeutic sound facilitator.


As an intuitive empath, she establishes connections with the body's natural wisdom, to allow the whole self to be seen, and to better provide the support of Reiki and sound where it is most needed. She is dedicated to personal and universal development through sound, plant, and energy work. She completed her Reiki training at the New York Open Center School for Holistic and Professional Learning, and is currently pursuing reproductive and social justice studies at Ancient Song Doula.


Christine is co-founder of A-ware.house, a project aimed at creating immersive experiences through carefully curated events. Focusing on the power of plants, sound, intuition, mind, breath, body, art, and community.


About SOCORRO:
Examining capitalism's foothold on the psyche of Americans of all stripes, Maroon World employs the Spring 2018 LUAR collection to reflect on labor and inequality. It follows a cast of characters, all partially anonymized by a blooming mask of neckties, as they go about their days—working, taking selfies, sleeping, smoking cigarettes, scrolling on their phones. It traces the differentiated ways the quotidian manifests across gender, race, and class while connecting and constellating the various New Yorkers in LUAR's 9-to-5 post-office wear.

RSVP required: contact@chr0ma.zone
Suggested donation
In the Absence of Language: Exploring Scent Intuitively

Saturday, October 27th - 12PM to 2PM

Each of us has a certain conditioning regarding smell that leads us to categorize aromas, but often the categorizing occurs not from the aroma but from the language chosen to describe it. Although the language of smell is limited, it automatically forms associations for us, making us navigate the world of olfaction through language that is rarely our own.

How can we experience aromas more intimately, more wholly, with our own feelings, memories, and language? How can we seek information and tap into our memories and emotions to come up with a scent that is personal and to which we assign our own description and purpose?

For Chroma's Grounding series, Tatiana Godoy Betancur of Olear will facilitate an experimental workshop to connect with botanical scents in the absence of pre-existing language and based on each participant's own memories and feelings. Encouraging an intuitive approach, participants will explore and meditate on various botanical extractions and form their own words for them. After reflecting on their writings, participants will blend their own personal scent informed by their smelling experience.

To have an unobstructed session and respect the experience of other participants, we ask that no perfumes, colognes, or other aromas, especially synthetic, be worn to the workshop.

Facilitator:

Tatiana Godoy Betancur is a scent designer and aromatherapist interested in the human experience of olfaction and its connection to memory and emotion. She practices the safe and responsible use of essential oils, and uses only botanical ingredients that are ethically sourced, sustainable, and pure.

RSVP Required
Sliding scale of $25-$55



Chroma Studio Launch!
Join us on October 14 between the hours of 6PM-8PM as we unveil our new home and celebrate this chapter with our community. We'll provide the tunes, wine, and snacks.


Address: 131 Essex St.
RSVP required: contact@chr0ma.zone





_________

Receiving this newsletter is an open invitation from us to share your ideas, visions, and more!

Please send us an email and let us know if you would like to collaborate with Chroma during the months of November & December.

Here's how to pitch us:
Email contact@chr0ma.zone your idea(s) and in a few words tell us about the project or event. Include a timeline, budget and your intention for the collaboration.

We're also seeking a Chroma intern!
Here's what the role entails: grant writing, social media, emails, calendar maintenance, client scheduling, research on potential partners and collaborations, site visits, and production assistance for events.

Requirements:
Part time availability
Knowledge of Adobe Creative Suite required




"There is no end / To what a living world / Will demand of you." - Octavia Butler